Sparrow has made the login experience easier and faster for you and your workforce. Here's what you need to know.
Skip to:
---
Introducing the New Login Experience: Old vs New



The process of user profile creation and management is easier and faster when integrating and connecting accounts with user directories and management systems, such as Microsoft Active Directory, Okta, Google or Facebook.
As we continue to support more account providers, our team designed a solution for a streamlined sign-in interface that can hold all account types in a single text field.
Old vs. New - What's the difference?
Simpler and faster. Don't remember which account you used? We can do the work for you. All we need is an email address or user ID so we can find your account and match it with the right provider.
More accessible, helpful information. Help links are available right on the screen so employees have quicker access to self-serve support articles and guides.
Universal point of entry. Employees can now enter the portal through portal.sparrowconnected.com, regardless of their role and permissions.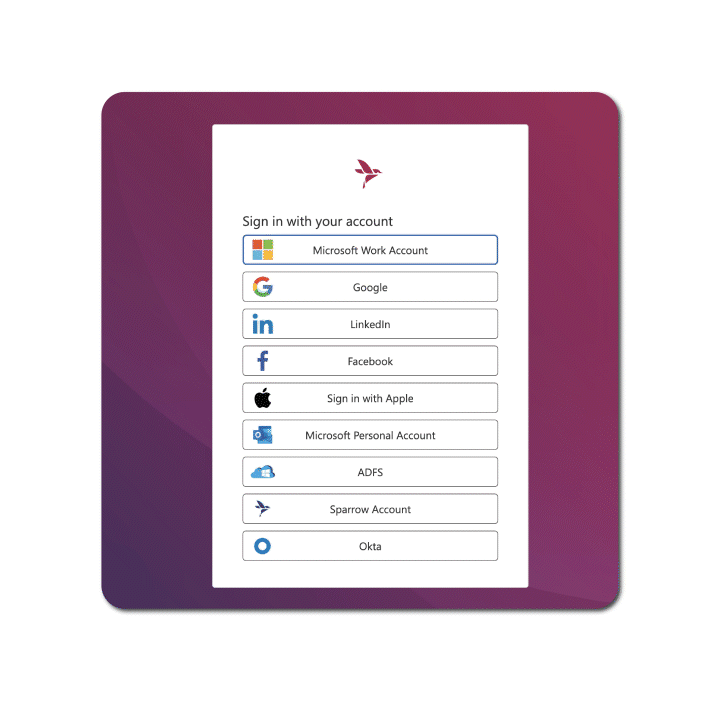 -
Recommended course of action
We encourage sharing the following pages and information with your organization to help every user navigate through this change.
-
FAQs
Will I still be able to use admin.sparrowconnected.com?


Yes, this link will remain active for Owners and Authors. Users who do not have these roles will be redirected to portal.sparrowconnected.com.

Will this affect any other experience on the platform?
Do we need to change anything on our part?


No; however, we highly recommend sharing the help articles listed above to your workforce.

We are using Microsoft Teams and Microsoft SharePoint. What does that mean for us?


You can continue signing in directly from Microsoft. All Sparrow web parts, extensions and functionalities in MS Teams and SPO will remain the same.

Is this applicable to the Mobile App as well?

Yes, signing in to your Mobile App will be the same, new experience. The screen is optimized for mobile use.

Will this feature change affect any Privacy Policies?