This article covers the basics of post authoring from the Admin Portal. More in-depth articles of each area will soon follow!
This article contains:
Authoring Overview
Sparrow is an omnichannel publishing system, which means, when content is created, it is immediately available across every Sparrow channel. This means whether you publish from the Admin Portal, SharePoint, Microsoft Teams, or Mobile, the following happens:
The post becomes available from SharePoint via Sparrow Post Viewer components, for the audiences you've selected.
Chatbot Notifications are sent to all Microsoft Teams users in the selected audience, notifying them of the post. The post is available on Microsoft Teams with the My Sparrow tab and the News Central tab.
Mobile notifications are sent to all Sparrow mobile users in the selected audience, notifying them of the post (which is also available on the Sparrow Mobile app).
If users who are in the selected audiences don't read the post within the configured amount of time, it will be included in their personalized Sparrow newsletter (assuming it has been turned on in the Sparrow Admin Portal).
Manage Posts Screen

You can manage posts within the Admin portal by navigating to Content Management > Posts. From the main management screen
Publishing state tabs - Allows the publisher to view posts with the following publishing states




Published - Published posts that are immediately available to its respective audience(s)
Scheduled - A post that has been scheduled to publish in the future
Draft - A post that has been saved, but not published. This could be as it is not complete and doesn't contain the required information, or potentially has been submitted for approval by a contributor

Post language filter - Filter the result set by the language a post was authored in
Post text / author filter - Filter the result set by text contained within the post or the author name
Topics filter - Filter the result set by one or more topics. Note: this is an OR condition, so if you filtered by HR Updates and CEO Blog, posts containing either of these topics would show.
Post types filter - Filter the result set by the following post types (See more in Post Types):

Standard
Compliance
Mandatory
Standard

Download reports - Clicking this button will download the comprehensive Sparrow Posts report which contains metadata on every post contained within the system.
New post button - Clicking this will launch a new window to create a new Sparrow Post
Post Creation at a Glance


1 - Hero Banner (Required Field)
The hero banner is the main image that represents your post and appears on all post news feeds. Clicking Select an Image will open the media gallery and allow you to select one or more images. You also have the ability to upload your own image to the media gallery/post from this interface. View more information on Managing the Media Gallery

2 - Title (Required Field)
The title is a key element of every post and is what users will see to identify the subject of the post. There is a limit of 100 characters, however, it is recommended that you generally do not exceed 50 in order to view your title clearly on all layouts.

3 - Optional Summary
The summary is optional, however, if no summary exists, then the first sentence or two of the body will be used on Sparrow Post Tiles and Sparrow Posts Central, in Teams My Sparrow view, and on mobile. When creating your own summaries, we recommend 2 - 3 sentences maximum to ensure your layouts look well-balanced and uniform.
Clicking the Add Summary button, will expand the summary area below the title.



4 - Custom Author
As a communications professional, you have the ability to publish on behalf of other stakeholders or executive. By clicking the Custom Author command, you can modify the author name and email address




5 - Attaching a File
Attaching files allows related documents to live directly within the post and can provide enhanced usability for your employees.
❗ Currently, Sparrow only supports the upload of PDF files as post attachments
To add an attachment, click the Attach Files button in the toolbar

Once this button is clicked, a new Attachment Files zone will appear at the bottom of the editor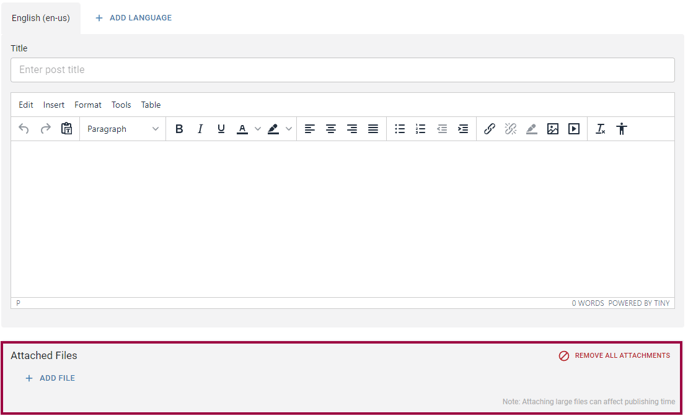 Click the + ADD FILE button. Here you have the ability to add from existing documents or to upload a new document. This interface is identical to the media gallery interface.
6 - Body (Required Field)
This is the main content area of your post. There is no character limit, however, this is a required field. View a detailed article on the Editor Capabilities.
7 - Post Type (Required Field)
The type of post you publish can determine its placement in the various Sparrow feeds and SharePoint web part. Sparrow post types are as follows:
Standard - Sparrow posts are regular content posts that always appear in chronological order
Mandatory - When a post is mandatory, it will remain at the top of the various news feeds until it has been read in its entirety. Also, all mandatory posts will be marked with the Mandatory label so users understand that this is required reading. If you choose, you can modify the label to any phrase of your choosing.


Compliance - Compliance posts require acknowledgement from the reader in the form of a checkbox at the bottom of the post.



A compliance post will remain at the top of the news feed until read and acknowledged.




Public - Public posts are similar to standard posts except that they generate a URL that can be shared externally on social media and accessed anonymously. When anyone clicks on this post, they will be redirected to the User Portal.
8 - Topics (Required Field)
A Sparrow Topic is a mandatory content category that every post or event must contain. Learn more about Topics & Topic Management
You can select one or more topics to add to your post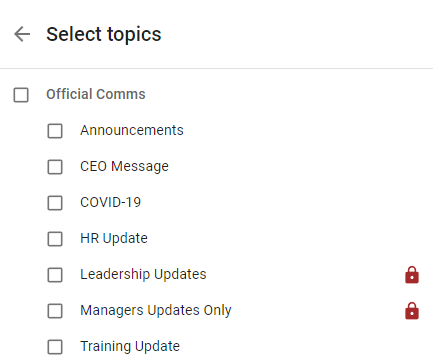 9 - Breaking News





A post can be marked as Breaking News for a period of up to 72 hours. Setting a post as Breaking News will give it a Breaking News label on the post and will activate the Sparrow Breaking News Banner in SharePoint. As with other flags, the color and wording is able to be modified in the Sparrow Admin Portal.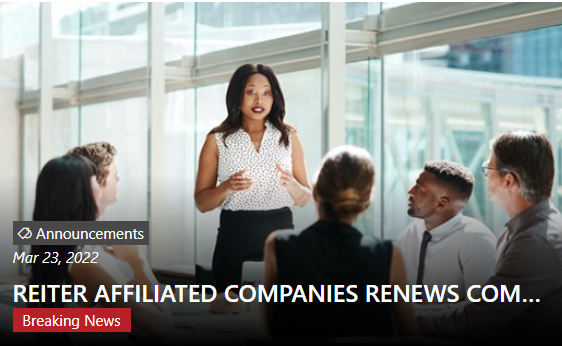 10 - Featured News
Sparrow News Tiles, and Sparrow Teams Tabs, have a setting to allow them to promote Featured posts for a period of up to 2 weeks. This means that the posts will be in the dominant position (at the top, or the biggest square in a multi-post configuration), however, can be outweighed by compliance and mandatory posts, if unread or unacknowledged. All featured posts show a featured label, which can be configured in the Sparrow Admin Portal.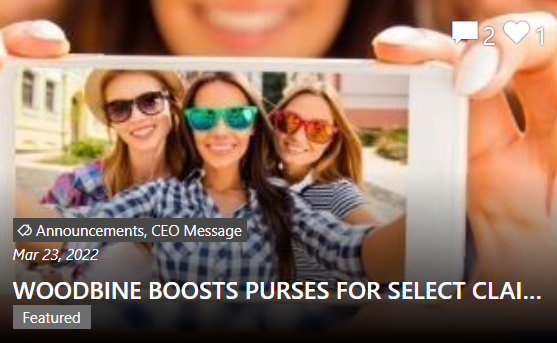 11 - Notify Subscribers
If enabled globally, post subscribers can be notified of new posts via Microsoft Teams Chatbot, the mobile app, Email, and SMS. Defaults for this value can be configured globally as well to standardize your communications approach

12 - Publish/Expiry Date
The publish date feature allows you to publish immediately (default), or you can publish to a future date. You also have the ability to auto expire or unpublish posts at a date of your choosing, which could be valuable for seasonal messages and celebration-type posts.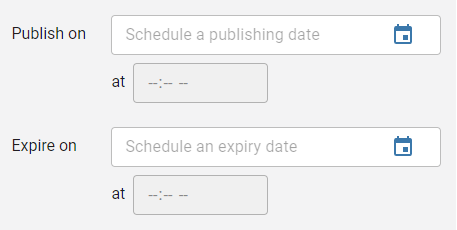 13 - Enable Reactions
If enabled globally, reactions can be disabled on a per-post basis. You cannot, however, disable reactions globally and enable on a per-post basis.

14 - Enable Comments
If enabled globally, comments can be disabled on a per-post basis. You cannot, however, disable comments globally and enable on a per-post basis.
Within a post, you also have the ability to decide if comments should be anonymous or standard (non-anonymous)