Each newsletter has a dashboard that allows you to manage future or past issues, edit newsletter or issue settings and access analytics and insights. To visit a dashboard:
Choose your account type (Microsoft Work Account, Google, LinkedIn, Facebook, Apple, Microsoft Personal Account or ADFs)
Login using your credentials. You'll be redirected to your Intranet Lite Homepage.
Click on the wrench icon, or expand the menu (located on the left side of your screen) and click on "Go to Admin Portal"
Access Newsletters directly from the dashboard, or go to Messaging Center > Newsletters on the left navigation pane
Select on a newsletter you wish to visit
The newsletter dashboard gives you at-a-glance information of your newsletter's details, future and past issues, and as well as its performance indicators and key insights.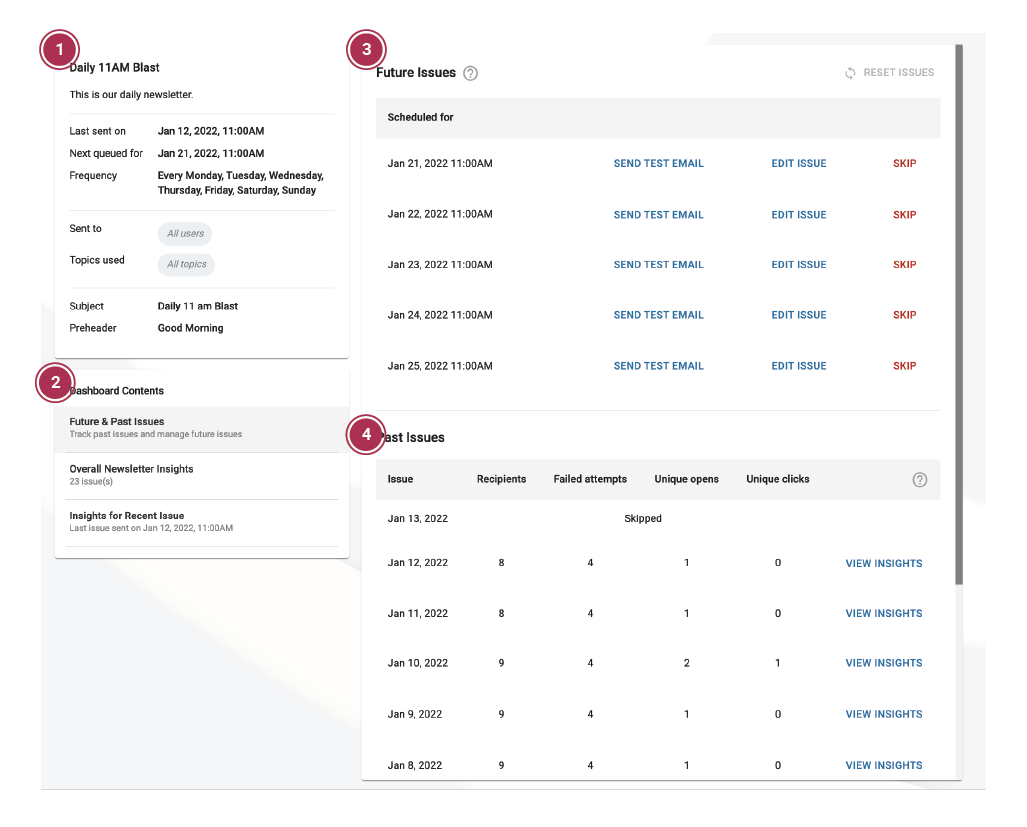 Newsletter details. This sections displays the most recently saved settings of the newsletter.
Dashboard contents. Navigate your way around the dashboard using these three tabs.

Overall Newsletter Insights. These are aggregated data and insights among all the newsletter issues or issues from the past 8 weeks. See Overall Newsletter Insights.
Insight for Recent Issues. To view the performance of the most recent issue, you can click this tab. See Insights for Recent Issue.

Future issues. Future issues is a feed of all the scheduled newsletter issues queued to send out on the corresponding date. Learn more about Future Issues.
Past issues. Recorded issues that have already been sent out. Learn more about Past Issues.