The Newsletter Global Settings control general configurations related to all your organization's newsletters.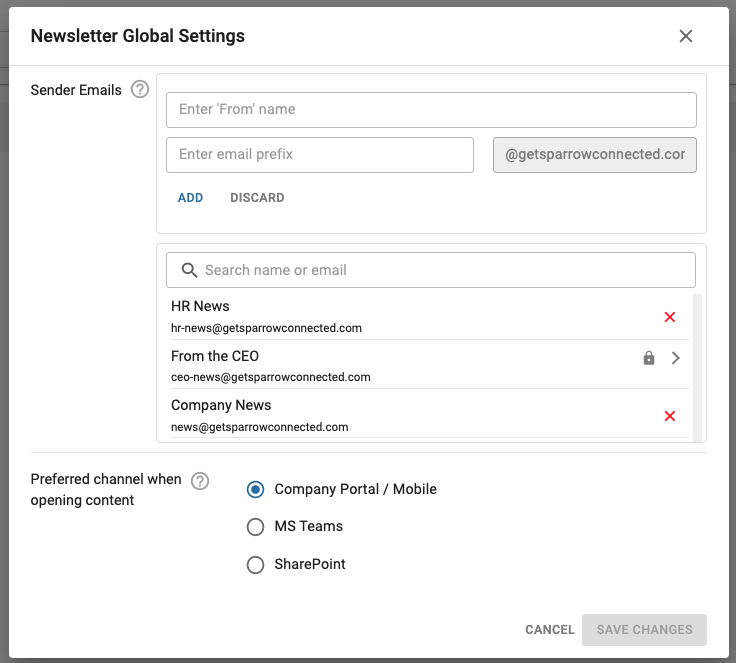 Sender emails. In the newsletter global settings, Sender emails is a list of all the senders that you can choose from when creating or editing newsletters. Learn more about sender names and emails.
Preferred channel when opening content. You can select which Sparrow Channel the links in your newsletters open to. For example, if MS Teams is selected, when an employee clicks on a newsletter, its content will open in Microsoft Teams. Learn more about Sparrow Channels here.
How to access the Newsletter Global Settings
Only Owners/Admins can access this feature.
Choose your account type (Microsoft Work Account, Google, LinkedIn, Facebook, Apple, Microsoft Personal Account or ADFs)
Login using your credentials. You'll be redirected to your Intranet Lite Homepage.
Click on the wrench icon, or expand the menu (located on the left side of your screen) and click on "Go to Admin Portal"
Access Newsletters directly from the dashboard, or go to Messaging Center > Newsletters on the left navigation pane
Go to More Options > Employee Activity Log