Reach the right employees with the right message by segmenting your organization using Standard and Smart Audiences.
This article contains:
-
About Audiences
Audiences is a Sparrow Targeting Tool helping administrators target and group employees by different attributes such as department, role, location, specialties and more.
Audiences are used for an enhanced targeting experience when publishing content. With audiences admins and authors can send the right message to the right people.
Only owners can manage, create, edit or disable audiences. Audience details and settings can be modified anytime. You can go to Users & Permissions in your Admin Portal to check the permissions a user has.
Manage Audiences screen

"State" Tabs. These tabs allow you to filter audiences by state:

Enabled: these are the enabled, active audiences.
Disabled: audiences that are inactive. Disabling an audience will hide the audience across the platform, and the audience won't be usable unless enabled. See sample use for more details.

Search and filter. You can search audiences by title, description, or audience type.
Audiences. This is a list of all your audiences and shows quick and helpful facts about your audiences including:

Audience, State, and Audience Type are all set when creating an Audience. See creating/editing audiences to learn more about these settings.
Total users. Number of users included in the audience. An audience can different user/account types:

Work Accounts. Accounts that have been synced from a third-party directory, such as Microsoft Active Directory (AD) or Okta directory. Learn more about Synced Groups.
Social users. Users which use Google, LinkedIn, Facebook, Apple, and personal Microsoft accounts to authenticate with Sparrow. Typically, these are field or seasonal workers without corporate accounts.
Sparrow users. Accounts in Sparrow that use a custom User ID and Password to authenticate.
Pending users / Invites sent from imported emails. When you create an audience, you have the option to import a list of users instead of adding them one-by-one. Any email address (detected in the CSV you've imported into an Audience) which do not exist in your Sparrow Directory are considered Pending users and will receive a Social user invite. Once they accept the invite, and have successfully logged in to your Sparrow platform, they will be counted as a Social user.


💡Learn more about account types in Sparrow.



Creating a new audience. Click on this button to add a new audience for your organization.
🚧 Synced Groups
There are Directory Services, such as Active Directory (AD) and Okta, created and managed by third-party providers. These services are widely used by organizations to centralize their company directory.
If your organization has synced one of these directories into Sparrow, you will see a "Synced Microsoft AD Groups" or "Synced Okta Groups" button in the Manage Audiences screen.



This tool allows you to easily select any AD or Okta group you want to carry over to your Sparrow Directory, together with the basic profile details of each user included in those groups. This also provides you a faster way to add users directly to an audience, learn how below.
Contact Sparrow to learn more.
Creating/Editing an Audience
Creating and editing an audience share the same screen. To edit an audience, select it from the Manage Audiences screen.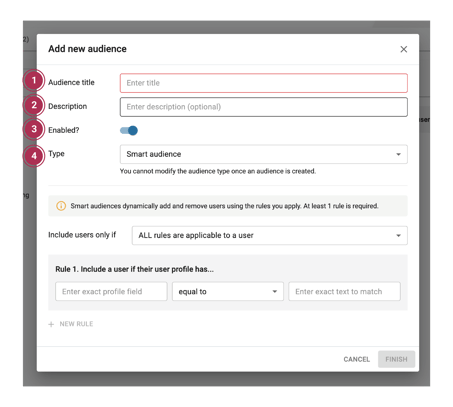 Audience title. A required field when creating and editing audiences. This is an internal name used to label and organize audiences.
Description. Keywords or phrases that support the title and helps you identify the audience.
Enabled? Gives you the ability to enable/disable audiences.
Type. Standard audiences are static. Administrators can manually add and remove users and user groups to an audience. Smart audiences are dynamically generated based on rules you specify. Please note that the audience type cannot be changed once an audience is created.
Standard Audiences
Users. Add individual users form your Sparrow Directory using this tab. Visit Users and Permissions in your Admin Portal to check all the users (Work, Social, and Sparrow) in your Sparrow platform.
Synced Groups. Selecting any of the synced Microsoft AD Groups or Okta Groups. Users within the selected groups will automatically and dynamically be added in that audience. Learn more about Synced Groups.
Import emails. Add users in bulk. Create a CSV file with the list of all the email address you want to add to an audience, and import it. Users in your CSV who have existing accounts in your Sparrow Directory will be directly added to this audience. Emails that do not match any records in your Sparrow Directory will receive a Social user invitation and will be marked as Pending Users. Once they receive and accept the invite via email, and have successfully logged in to your Sparrow platform, they will be counted as a Social User.
🆕 Smart Audiences
Smart audiences allow you to dynamically add and remove users based on the rules specified. At least 1 rule is required for each smart audience.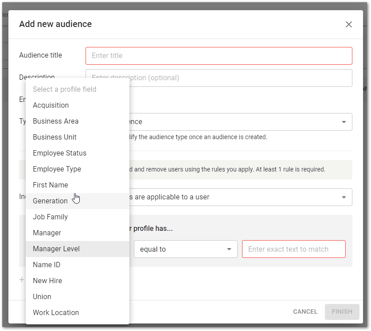 Each rule defines a criteria dependent on your organization profile fields.
You can check the profile fields available by selecting any user in your Sparrow Directory (located in Admin Portal > Users & Permissions) or by visiting your 'My Profile' on your Intranet Lite: Company Web Portal.
Including users if ALL rules are applicable to a user. If a user's profile fails to meet even just one rule, they will not be included in the smart audience.
Including users if ANY rules are applicable to a user. If a user's profile meets at least one rule, they will be included in the smart audience.
Sample Uses: What are audiences for?
Grouping & Organizing
Audiences are generally used to segment your organization and target the right message to the right people. For example, Newsletters take advantage of audiences by allowing authors to select specific audiences to whom they wish to send the Newsletters to. Learn more about Sparrow's Intelligent Newsletters.
Audiences and Topics
Audiences play a critical role in Topics. Each Sparrow Topic has Mandatory, Default, or Restricted attributes. These attributes can be pointed to one or more audiences and control:
who gets notified when a post or event is published;
who is subscribed to the topic; and
who has access to the post or event.
When a post or an event uses a Topic, it respects the audience settings attached and saved to that Topic. Learn more about
Topics
.
Audiences in Category Tags
Category tags use audiences in its default audience settings. This allows an administrator to seamlessly use Category Tags and Audiences to target content without the tedious work of clicking on each Audience one-by-one. Learn more about Category Tags.